Professional Garage Cleanout & Junk Removal in Darien, New Canaan, Rye & Nearby
Fairfield & Westchester Counties's reliable eco-friendly junk hauling company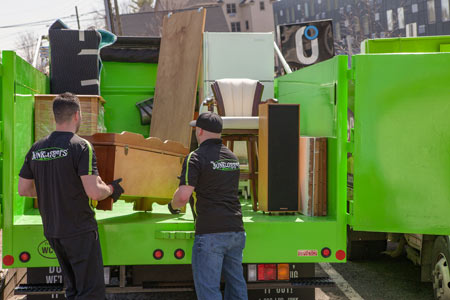 When it comes to home organization, your garage can often be the last spot to tackle. Over the years you may have accumulated a junk collection of old furniture, toys, and household items that are taking up a ton of precious space, making it feel overwhelming to sort through it all.
With The Junkluggers of Fairfield & Westchester Counties, you won't need to go it alone. Our team provides full-service junk removal and cleanout with a 100% eco-friendly guarantee. Don't stress over volume, waste, or forgotten items on your own. Give us a call today to schedule a free junk removal estimate, and get started on your way to a brand new garage.
Experience the difference of a clean garage in Riverside, Armonk & nearby in CT & NY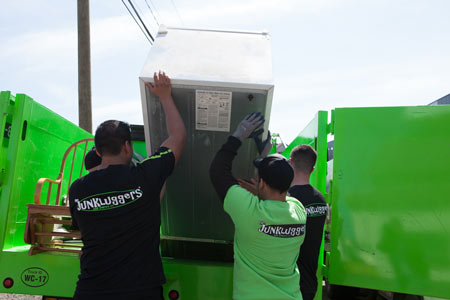 If you've been coming home to a garage full of junk for years, imagine the relief you'll feel once everything is decluttered, sorted, and removed. You'll be able to see your floors again, do a deep clean, and make room for important items. Plus, with our eco-friendly approach, you can feel good about where your junk is going.
Our team sorts through your items and recycles, repurposes, or donates everything we can. Within 14 days, you'll receive a tax-deductible receipt for any items we were able to donate on your behalf. Stressing about the type of junk you have in your garage? We do it all. Our reliable team is here to take away furniture, appliances, carpets, clothing, e-waste, and more. Sit back and leave the heavy lifting to us.
Garage Cleanout Tips
Have you been wanting to organize or clean out your garage but were too overwhelmed or didn't know where to start? Your garage is a space for so much more than parking your car or storing those once-a-year items and sports equipment. The Junkluggers of Fairfield & Westchester Counties can help. Here are a few tips and tricks to get you started:
How to clean out your garage
Set aside the time

The first step is starting. Pick a dry, clear day for your garage cleanout and organization.

Find the right music or podcast

Find that right playlist or podcast to get you into that cleaning mood.

Organize everything categories

Sort your items into piles of things to keep, things to sell, things to trash, and things to donate.

Put the "keep" items away

Once you have what you will keep figured out, start placing items into their rightful spots.

Call The Junkluggers of Fairfield & Westchester Counties

We offer eco-friendly junk, appliance, furniture removal services, full garage and basement cleanouts, and more. We do the heavy lifting so that you don't have to.

Hire an organization company or install garage organization

Once you have your garage back, keep it. Consider installing garage cabinets or shelving to keep items up and off the floor.
At The Junkluggers of Fairfield & Westchester Counties, we offer eco-friendly garage cleanout services so that you don't have to do it alone. Our team of junk removal experts efficiently work through the mess, so you don't have to stress. Our mission is to provide Fairfield & Westchester Counties residents with efficient services, all while keeping our community green. Contact us today to book your free garage cleanout estimate!
Schedule a Free Junk Removal Estimate Today
Don't put it off any longer, let The Junkluggers of Fairfield & Westchester Counties help. Contact your local junk hauler today to schedule a complimentary garage cleanout estimate! We offer junk removal services in Riverside, Old Greenwich, and nearby in Connecticut & New York.